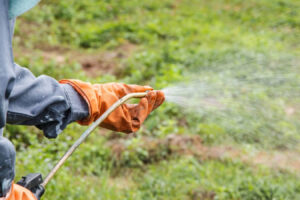 Early spring and fall are the most effective times to apply pre-emergent herbicides. They can be applied throughout the year and will still prevent new weeds that sprout; however, most weeds sprout during spring and fall. Annual weeds germinate from seeds in the spring, to fully bloom in the summer, before dying again in the winter. Due to this life cycle, it's important to target your weeds with weed killer in the spring (when they're germinating).
How Pre-Emergent Herbicides Work
Pre-emergent herbicides include chemicals like prodiamine or dithiopyr, which work in three ways to stop weeds like clover, crabgrass, thistle, and dandelions from emerging through the soil. The herbicides prevent root growth, impede seed cell division, and ensure that certain nutrients will not reach the weeds. The timing of your pre-emergent application is vital to their effectiveness. To get ahead of early spring and summer weeds, apply pre-emergent herbicides around mid-March.
Will Pre-Emergent Treatment Kill Existing Weeds?
Keep in mind that pre-emergent weed killer does not kill existing weeds. Only the seeds of new weeds will be eliminated, preventing them from sprouting. To control existing weeds, pull the weeds, apply weedkiller or hire a lawn service to treat and eradicate your weeds and other lawn pests.
How To Ensure The Success Of Pre-Emergent Treatment
Follow the manufactures instructions. The ratio of fertilizer to herbicide must be precise and the spread of the solution must be as even as possible. It should be like a blanket to smother the weeds. You must also properly water – generally about a 1/2 inch of rainwater or 45 minutes to an hour of solid sprinkler time. If all of this takes too much of your time and energy, hire a professional lawn service to help beautify your lawn.
To have a weed-free lawn a pre-emergent is the most basic and the best form of weed prevention. To prevent summer weeds, apply a pre-emergent herbicide once the ground temperature has been 55 degrees for at least 48 hours. Due to the way these herbicides work, application timing is the most important aspect of weed prevention success. If the weed has already sprouted and is visible, pre-emergent herbicides will not solve the weed problem.
Take the Guess Work Out of It and Hire a Professional
Green & Grow's Fertilization and Weed Control programs provide a lush, healthy, green lawn. Our lawn fertilization program supplements the soils and feeds the plants. We take weed control very seriously and provide a wide range of treatments to tackle all the common weeds of Central Kentucky. We use only the finest fertilizers to achieve the best results for your lawn.
> Learn More
Contact us (859-314-LAWN) for more information or a free instant quote!
—
About Green & Grow
Green & Grow is a full service lawn care company specializing in lawn mowing, fertilization & weed control, aeration & seeding, insect control, and more!
> Learn More