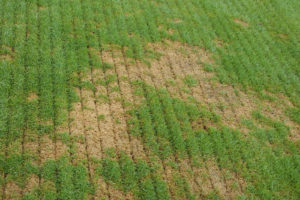 The ideal time to start power seeding your lawn is the fall season. In order for germination and turf development, the ideal weather conditions would be warm days, cool nights, and plenty of rainfall. Power seeding in the fall also helps your lawn's appearance for the spring season. Power seeding in the fall requires fewer touch-ups than in spring. For instance, grass seeds that are scattered for growth during the fall season can establish quicker because of the reduced competition of broadleaf weeds and crabgrass. Broadleaf weeds and crabgrass compete with your lawn for nutrients.
The Process of Power Seeding
Power seeding is about using precise state-of-the-art equipment to literally sow seeds directly into the soil on your lawn without damaging your existing grass. Getting grass seeds to grow comes down to one important component – seed to soil contact. this increases the germination rate of the seed. Simply throwing seeds on top of bare spots doesn't cut it.
What is the Difference Between Overseeding and Power Seeding?
Power seeding, also known as slit seeding, can be an effective way to renovate thin, tired lawns without having to kill the existing grass. Overseeding is simply broadcasting grass seed on top of your current mature lawn. Typically results in low germination of the new grass seed and will not produce the same thick lush lawn that power seeding can provide. Power seeding is the best option when you are trying to fill in dead grass spots in your yard. Think of the power seeder as a garden tiller. It keeps your current grass intact but roughs up the dirt.
Why Should I Power Seed?
If your lawn has bare sections of about 1,000 square feet or smaller, power-seeding is an efficient and reliable way to establish grass seed more quickly than traditional broadcast seeding. Because power-seeding injects seed directly into slits in the soil. Seed-to-soil contact is critical for germination. Grass and lawn are susceptible to heat, drought, and malnourishment. This typically happens during the hot summer months. This causes stress to the grass and makes it brittle and weak. The best time to power seed and clear up all the dead spots is in the Fall.
Contact us (859-314-LAWN) for more information or a free quote!
—
About Green & Grow
Green & Grow is a full service lawn care company specializing in lawn mowing, fertilization & weed control, aeration & seeding, insect control, and more!
> Learn More