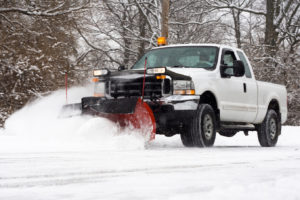 As a business or commercial property owner, it's in your best financial interest to be prepared for snowfall in advance. Snow-covered parking lots can have a significant impact on whether your customers can access your business.
Peace of Mind
As mentioned before, due diligence on a business owner's part is being financially responsible. If your lot is covered in snow and your competitors aren't, more than likely they will go there, and you are losing customers.
Safety
Snow-covered parking lots can pose a risk for your employees or customers. Having your lot plowed will ensure everyone's safety.
Liability Risk
Not only is a plowed lot important for safety, but it will also reduce accident risk and liability. Accidents related to snow and ice occur when the lots are slippery due to being wet. You can significantly decrease the odds of an accident by having a snowplow removal service scheduled in advance.
Protected Lot Surface
Most commercial snowplow companies have up-to-date equipment that will protect your lot as it plows. Hiring a professional will not only keep your lot snow and ice-free, it will also keep its robustness.
Quality
There are some companies who don't have the best equipment, so quality isn't something they can always deliver. Unfortunately, you can be left with a damaged surface that will cost more money to repair than if you had hired a professional to start with.
Cost
You may think you are saving yourself money by removing the snow yourself but hiring a professional may end up saving you money in the long run.
Having a professional snowplow service scheduled in advance will provide you with peace of mind.
Contact us (859-314-LAWN) for more information or a free instant quote!
About Green & Grow
Green & Grow is a full-service lawn care company specializing in lawn mowing, fertilization & weed control, aeration & seeding, insect control, and more!