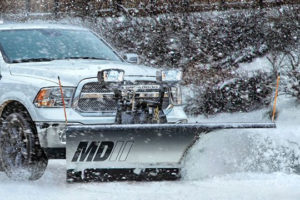 Sometime in the early fall is the best time to make sure you are on the schedule of a professional snow removal service in case it snows. Once winter arrives, there's always the threat of snow disrupting your daily activities. Having a snow removal contract will allow you to avoid being snowed in or shut down once the severe weather hits. The following are reasons you need professional snow removal…
Keep Up Your Curb Appeal in Winter
You want to maintain a friendly and nice-looking environment for your home or business. Clearing your driveway, parking lot, and entrances will bode well for your business or home when a snowfall happens.
Keep Safety in Mind
You don't have to spend a lot of time around snow to realize that it can be a danger. Not only can snow injure a person by causing that person to slip and fall, but it can also injure a person during the snow removal process as well. Bringing in the professionals to remove the snow from your property leaves you almost entirely safe from its harm. You won't hurt yourself by lifting a shovel and you won't hurt yourself or a customer by slipping on ice or snow.
Rapid Cleanup
Professional snow removal companies will have specialized equipment. Most families or businesses do not want to invest in expensive equipment designed to speed up the removal process. If you assign someone in the family or someone in the business to be in charge of snow removal with a shovel and snowblower it will take a long time to complete the job. And many things could cause them in the middle of the job to be called away. With a professional service, you know the job will be completed without interruption.
Experience Matters
A professional team has the experience to know when to use de-icing and when to use machines. They also know how to do the job without damaging walkways, driveways, and parking lots.
Liability
Property owners are responsible for removing snow from walkways within 4 hours after daylight and after falling snow has ceased. Slips and falls on snow and ice can lead to injury and lawsuits when they happen on your property. So to have your driveway and walkways cleaned in a timely manner by a professional service would pay for itself If it can eliminate an accident.
Professional Snow Removal Saves Your Time and Money
For property managers, and homeowners wintertime can be a challenge. You will have to deal with snow and ice removal throughout the season. There are several types of contracts for snow removal. It is important to understand the difference between these plans. Once you have done your research, you can decide if a seasonal contract is the best choice for you. A good business has a plan for every scenario, especially on snow removal. If you have to invest in shovels, snow blowers, melt chemicals, or a snowplow, it may be worth the cost of a professional to do it for you. Another savings is the loss of man-hours you will be paying if your staff is made responsible to remove the snow.
Contact us (859-314-LAWN) for more information or a free instant quote!
—
About Green & Grow
Green & Grow is a full service lawn care company specializing in lawn mowing, fertilization & weed control, aeration & seeding, insect control, and more!
> Learn More